Flitwick Club – Flitwick April 21st
21 April, 2018 @ 8:00 pm

-

10:30 pm
Event Navigation
April 21st
JUNIOR SIMPSON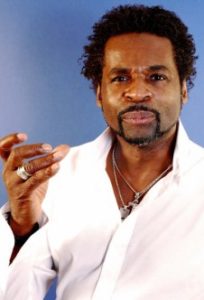 JUNIOR SIMPSON on BIG BROTHER
LIVE FROM AMSTERDAM
https://www.youtube.com/watch?v=-QqyBl9rQ6Y
JUNIOR SIMPSON on BIG BROTHER

LIVE FROM AMSTERDAM
https://www.youtube.com/watch?v=-QqyBl9rQ6Y
With his infectious energy and huge stage presence it is easy to see why Junior Simpson is a circuit favourite.  Simpson has a boundless joy and exuberance that has audiences hooked with hilarity.   A true observational comic Simpson finds his humour in the everyday and humdrum with anecdotes of his world travels as a comedian adding a personal originality to his set. Although mischevious and daring, Simpson is never crass or crude and can tailor his set to suit any audience making him a favourite for warm up, TV and corporate work.
Junior is a regular headliner at clubs all over the UK and is also in great demand internationally performing as far afield as South Africa and Australia.
Junior is also a regular contributor to The Cutting Edge Team at the Comedy Store.
FESTIVALS
Junior has performed in countless festivals including…
Leeds Comedy In The Park
Carling Weekend
Reading Festival
Leeds Festival
Brighton Festival
Guilfest
Edinburgh Festival Fringe
Leicester Comedy Festival
Birmingham Comedy Festival
Liverpool Comedy Festival
Ealing Comedy Festival
Vodacom Funny Festival (Cape Town)
RADIO
Numerous spots on most major radio stations around the UK and the world. Including…
London Live
The Edge
The Beaton Generation R4
You Call That A Quiz GLR
Stand Up Two R2
TV
Richard And Judy
Big Brother's Big Mouth (C4)
Big Brother's Little Brother (C4)
Meet The Magoons
Armstrong & Miller Show
Casualty  (BBC)
The Comic Side of Seven Days (BBC)
AbbaMania (ITV)
ElvisMania (ITV)
Keen Eddie (Fox)
First Cut (Carlton)
Holby City (BBC)
Oliver's Twist  (Food Network)
Maximum Exposure (Bravo)
Blankety Blank (LWT)
The Heaven And Earth Show (BBC)
The Live Floor Show (BBC Scotland)
They Think Its All Over (BBC)
Night Fever (CH5)
Never Mind the Buzzcocks   (BBC)
People Do The Craziest Things (Carlton TV)
Question Of TV (BBC)
The Harry Enfield Show (Sky One)
In The Dark With Junior Simpson (CH5)
Jim Davidson Presents… (BBC)
Surfer's Paradise (Carlton TV)
The Stand Up Show – Series 5 (BBC1)
The Comedy Store (C5, 1997/8)
The 11 O'Clock show (CH4)
Mission Improbable (CH5)
The Stand Up Show (BBC1, 1998)
Nights Out At The Empire (C4, April, 1998)
Bring Me The Head Of Light Entertainment (C5)
The Comedy Network series 2 (CH5, 1997/8)
Is That It (Anglia, 1997)
Nights out at the Empire (C4, 1997)
Live at Jongleurs 3 (U.K Gold, 1997)
Live at Jongleurs 2 (U.K Gold, 1997)
Live at Jongleurs 1 (UK, Gold) August 1996
The Comedy Network (CH5, Paramount Channel 1997)
Good Stuff Comedy (Carlton, 1997)
Club Class (CH5, Paramount Channel 1997)
The Comedy Store (CH5, Paramount Comedy Channel 1997)
Saturday Live (LWT, June 1996)
The Wright Stuff
Top Gear
Stupid Punts
Queen Mania
Comedy Cafe
The 100 Greatest Sex Symbols
The Story Of Light Entertainment
Britain's Funniest Comedy Characters
Back In The Day
Edinburgh Or Bust
THEATRE
Independent Black Woman (Director/Co-Writer/Lead Actor)
Loverman (Co-Writer/Actor)
Smallie
Slave Babies
Baby Father
FILM
Don't Stop Dreaming (Role: Dildar Singh) 2007 (Director: Azjad Nazir)
Love Actually (Role: DJ) 2003 (Director. Richard Curtis)
High Heels and Low Lifes (Role: "Micky") 2001 (Dir. Mel Smith)
WRITING CREDITS
As The Chicken Jerks – (stage sitcom) Hackney Empire
Lover Man  – Hackney Empire and Lewisham Theatre
Independent Black Women – Hackney Empire Lewisham Theatre
WARM UP ARTIST
Dead Ringers (BBC)
Pilot for the 'Ist TV Show' (Zenith),
The Sketch Show (Avalon),
Ali G Show (Talkback),
Hippies (Talk Back),
Jo Brands Commercial Breakdown (Celador),
Comic Relief (BBC),
Never Mind The Buzzcocks (BBC),
Gas (CH4),
Rolf Harris's Amazing World Of Animals (BBC),
In Exile (C4),
Live from Jongleurs (U.K Gold)
Saturday Live (LWT),
The Frank Skinner Show
The Late Jonathan Ross
Abba Mania
It's A Knockout
The Stand Up Show
Gease Mania
Elvis Mania
Gimme, Gimme, Gimme
I'm Alan Partridge
Live At Jongleurs
PRESS 
"My highlight was Junior Simpson. A vigorous raconteur and vibrant mimic with lots to say. Watch that Man!" The Guardian
"The new Lenny Henry"  The Times
"His material is excellent"  Daily Mail
"Simpson's irresistible energy and evangelical delivery can engage the most jaded of room" Chortle
MICHAEL FABBRI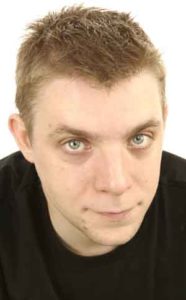 host of his own BBC radio show Dyslexicon. Listen on iplayer here
http://www.bbc.co.uk/programmes/b07d39j9
Asia Uncut TV Asia 2009
Asia Uncut Episode 5, Michael Fabbri
CHORTLE AWARD NOMINEE 2012 FOR BEST CLUB COMIC
FINALIST ON CHANNEL 4'S SO YOU THINK YOU'RE FUNNY?
With a dark and honest approach to some of life's more touchy subjects, Michael Fabbri manages to effortlessly slip between some harsh, controversial topics to light-hearted silliness to make for a refreshingly eclectic and brilliantly funny act.
Michael Fabbri quickly stamped his mark on the UK circuit appearing in the 2003 final of Channel 4's So You Think You're Funny? competition and rapidly earned a reputation as one of the most promising up and coming comedians on the circuit; A reputation that he is living up to, regularly performing for the best clubs in the country.
KEVIN KNIGHT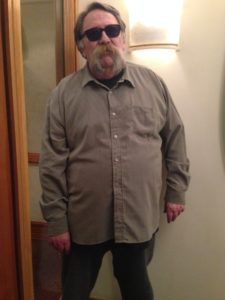 visually impaired comic with 15 years experience
"A blindingly great act"
MC: JIM GRANT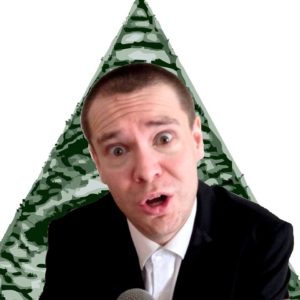 Jim is a solid act and experienced mc.
Jim has played clubs, corporates and festivals, all over the U.K, Jersey, Canada and the U.S. He is available for live work, corporates, TV, radio and voice-overs and also drives. His act can also be "clean" if required. His likeable style has made him very bookable and has earned him many compering residencies.
Jim mcs and does sets for Jongleurs, comedy cafe, kings head and many others
Clips:
TV/RADIO WORK:
Has his own live show 4pm every wednesday on Radio Lewes, " Beyond The News"
Daily Telegraph Award Regional Runner Up 2001
Guest presenter for Sky TV
Stand Up Britain ITV,
Personality Driven AUDI CHANNEL
BBC Radio Sussex Breakfast Show
Talksport Radio, Ian Collins Show
Express FM Drivetime with Adrian Knight
"A very witty and knowledgeable presenter" Sky TV Feb 08
"Very, very funny headliner" BBC Radio, Carrie Cooper, June 2007
"Jim Grant walked on stageas he told joke after hilarious joke, and brilliantly
responded to talkers in the audience" SQ MAGAZINE 2011
"Jim certainly has enormous presence, combined with a razor wit, means he's perfect for compering" – East Magazine Feb 2003
"Sparky regular compere, Jim is a master of getting the crowd going." – Herald March 2003
"Very funny and a highly competent MC" – Source Magazine Feb 2004
"A long applause for his set." – Royal Stratford Theatre August 2004
"A born communicator" – East Magazine March 05
"Really enjoyed his set" Alistair McGowen June 09

Comedy In Flitwick
Comedy Clubs Bedfordshire
ALL LINEUPS SUBJECT TO CHANGE