Are you looking for corporate entertainment ideas?  You can book fantastic TV comedians for your  corporate comedy event with Oi Oi Comedy, because we not only offer top quality acts, but great advice and support to help ensure that  your evening is a success.   Your corporate entertainment ideas may include magicians, musicians, hypnotists, ventriloquists, dancers, burlesque acts and many more. Oi Oi can help with all all acts, not just corporate comedians.  So if you're looking for corporate entertainment  ideas, call us for advice and we can make some recommendations.
Whether you're looking for a comedian for your after dinner speech, party, or launch event, we'll be able to discuss your venue, and your audience and make recommendations around the type of acts that might be suited, and how to lay out your venue and timings for your evening in order to create the best atmosphere .  We can even look at your audio requirements and supply additional equipment where necessary and even DJ's too.
Corporate enterainment ideas – handy tips
You'll have realised that comedy provides a number of options for you as event planner with a vast array of different timings, formats, performers, types of material and much more.
Think carefully about the type of comedian you would like at your comedy event. All comedy hosts are superb comedians, but not all comedians are great hosts. Improvisation, "crowd work," etc.. are quite specialist traits. By the same token many great comedians are heavily scripted and less interactive. If your event calls for a compere, host or MC rather than a pure comedy act, we can ensure that performers match your needs.  Special occasions like annual awards can be livened up with an MC introducing nominees, bantering with awardees, celebrating top winners and keeping things moving at an entertaining pace.  Whilst some consider giving this role to a member of their own team, Oi Oi recommend leaving this to a professional.
Booking several comedians can be a great idea, and you should consider using a comedy club format with an opening act, middle act, and headline act, with professional comedian as an MC. Oi Oi Comedy can recommend the best order, type and combination of acts to ensure you have a successful corporate comedy event.
Please call for a quote on 07773 147986 or email
oioicomedyjim@gmail.com or jim@oioicomedy.com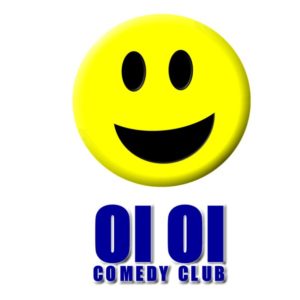 Established 2001