Worthing Golf Club Comedy Night March 9th
9 March @ 8:00 pm

-

10:00 pm
Event Navigation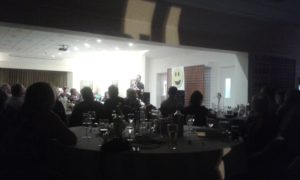 March 9th
BRIAN DAMAGE & KRYSTAL
BRIAN DAMAGE & KRYSTAL @ Sydney Comedy Store
Brian Damage & Krysstal are a unique comedy double act based in London. Blending music, deadpan comedy and silliness they have been working together on the London Comedy Circuit for the last five years. In that time they have performed not only around the UK but also in Germany, South Africa and Australia. 
Right now they are back in London after a very successful Melbourne and Edinburgh Festival 
Jongleurs act of the year 1998
"The Best of The Fest"
"Jongleurs"
"Melbourne Comedy Festival Just For Laughs"
" – as daft and charming as they are funny…"The Stage (Aug 2002)
"Brian Damage is a legend on the London Comedy Circuit….cracking deadpan act." Chris Wilson – StandUpCom Magazine 2001
" Always enjoyable…. incredibly funny…. His 'Buddy Holly plays Oasis' is a gem" Chortle (The UK Comedy Guide 2000)
"If you like daft stuff you'll love this new album… by Brian Damage and Krysstal" TIME OUT (London 2001)
ANDRE VINCENT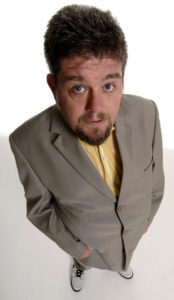 Andre Vincent Investigates George Galloway in Big Brother
Andre vincent Investigates The Big Day All About Me Day
Andre at The Comedy Store
https://www.youtube.com/watch?v=nSNmmOT7wtc
Opened for Bob Hope in Columbus, Ohio in 1992.
With his head swelling and his tongue tripping one-liners, he returned home to conquer the comedy circuit of the U.K., and in no time at all established himself as one of the top stand-ups in the country today. His individual style has taken him across the scope of the performance medium: a Saturday night show on Channel 4, three sell-out runs at the Edinburgh festival, countless radio shows, presenter of two award-nominated television programmes, a regular face on daytime panel games and even an appearance as himself on the children's drama 'Byker Grove'.
Moments treasured in André's career so far include:
Playing himself in 'Byker Grove'
Singing 'Ooh Ah Just A Little Bit' on TV with Miss UK
Teaching Cliff Richard to unicycle
Performing at a Vietnamese refugee camp in the South China Sea (booked by the Chinese Government)
Opening for Bob Hope (Bing Crosby spins in his grave even now…)
Television:
'Andre Vincent – Hurrah for Cancer' (BBC3)
'The Late Edition (BBC3) 'Big City' (Central)
'The Orpheum Comics (CBC) 'The Comedy Factory (Nederland's TV)
'I Want 2 B TV (BBC3) '101 Greatest Musicals (CH4)
'History of Offensive Humour' (CH4) 'A Day In the Garden' (CH4)
'The Show' (CH4) 'Sunday Night With The Comics (Fox)
'Breakfast TV' (BBC1) 'All Over The Shop' (BBC1)
'You Must Be Joking' (ITV) 'First Night' (ITV)
'Bodger and Badger' (BBC1) 'The Basement' (Bravo)
'Harry Hill's Fruit Fancies' (BBC2) 'Edinburgh Nights' (ITV)
'Lee Evans Christmas Special' (ITV) 'The Comedy Store' (CH 5)
Festivals:
Beijing Arts Festival China
Toronto Vaudeville Festival x2 Winter Olympics – Calgary
Bogotá Festival – Columbia Ameriflora – USA
Edinburgh Fringe Festival x9 Colombo Festival – Sri Lanka
Melbourne Comedy Festival Montreal Comedy Festival
"An improvising comedy genius" – The Guardian
"He possesses the energy of Lee Evans with the improvisational Skills of Paul Merton and is one of the best comedians in the business." – The Times
"Ferociously funny" – The Sunday Times
"This guy should be on prime time telly" – Chortle.co.uk
PHIL REID
TV appearances
Shameless Channel 4
Hollyoaks Channel 4
Burger King Advert
He has also supported the likes of Jason Manford, John Bishop and Keith Harris.
MC: Jim Grant